What is a French hairpin?

A French hairpin is a two prong hair styling accessory also known as a chignon pin. This hair accessory allows you to create a sleek updo in an effortless way. A hair pin is the only accessory that you need to create an elegant updo in seconds but not only this, hairpins are the healthy alternative to hair elastics. 


Here at Tegen Accessories, we have been designing and perfecting the highest quality hair accessories for over 10 years. During this time, we have created the No 1. Hairpin for each hair type uniquely. We have put together a guide to outline the number one hair pin for your hair type that will leave you with a secure, comfortable and elegant hairstyle every time.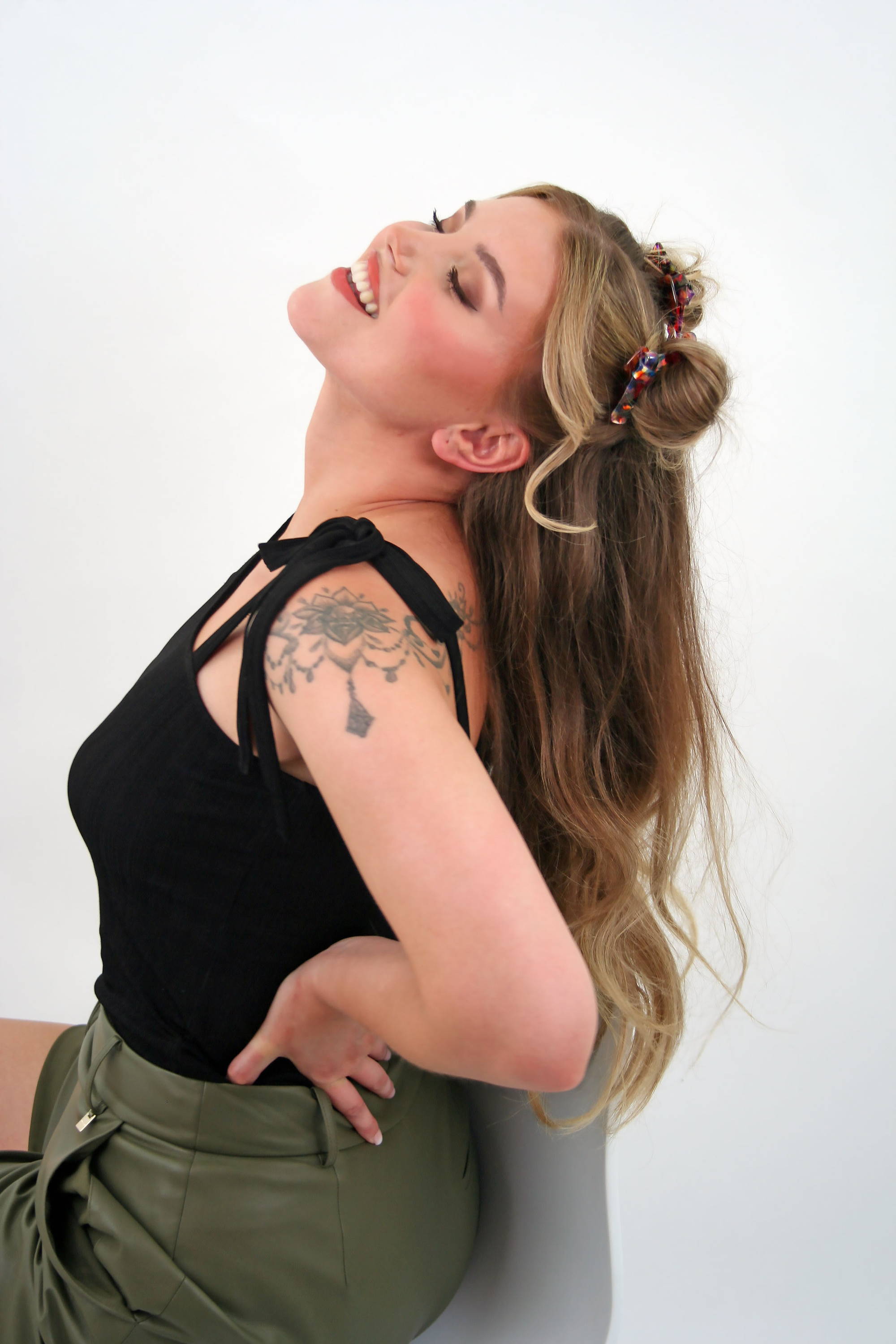 Tegen's No. 1 Hairpin For All Hair Types

Luxury No.1 Hairpin -
Medium Bow Chignon Pin
From long to short lengths and thick to fine hair types, this hairpin is a universal favourite. With a unique bow design, this hairpin is one of a kind and will not be found elsewhere. Not only does this versatile hairpin have a unique design, it is made from a cellulose acetate material which is praised for being strong, flexible and has been polished to give the smoothest edges to avoid causing damage and breakage when removed from your hair.
Available in three stunning colourways including Stained Glass, Onyx and Magenta Mottle (this colour is not being restocked so if this is your favourite, order while stocks last). 
"It is so comfortable to wear, and looks great. Looking forward to using it for years to come and definitely recommend it."
"Another gorgeous purchase from Tegen. As previously, my item arrived quickly and beautifully packaged. The Onyx hairpin is really lovely and stays in my fine hair and makes a subtle statement. I'm not sure there is another website that sells quality hair accessories quite like these!"
"Love it! Purchased because a competitor's no.1 hair pin broke after 5 days on holiday."
Affordable No.1 Hairpin -
10cm Chignon Pin
This is the best staple hairpin for every day wear. Whether it is to pop your hair up in a rush out the door or a comfortable and reliable way to hold your hair up all day at work. This hairpin works well in mid length to long hair and is the affordable way to experiment with hairpin styles before investing in one of our luxury handmade hair pins.
"I was really surprised that this worked so well as I have thick long hair, I couldn't work out how to use it but watched the video from Tegen, and followed the directions and it worked brilliantly, love it!" - Lynne
"I love putting my long fine hair up with this. It is elegant, strong and I can twist my hair up in a variety of styles and know it will stay up. Excellent quality as usual Tegen!" - Caroline
No. 1 Hair Pin For Thick Hair - 11cm Chignon Pin

If you have thick hair, you have most likely struggled to find hair accessories that secure a large volume of hair. But not anymore. Not only do we have a thick hair accessory collection, we even have the No.1 Hairpin that will hold a lot of thick heavy hair reliably.

This popular hairpin that has received only 5 star reviews ever, is handmade in France using the material cellulose acetate - is a strong flexible resin perfect for securing large heavy volumes of hair.
"I am new to Tegen and received my first order last week. I particularly love their range of French handmade accessories and ordered the 11cm Chignon Pin. I have long and fine hair, which I wear in a low bun. The chignon pin is the perfect size, and the subtle blue hues of the opal colour way are beautiful. The pin is well made, gentle on my hair (no snagging), looks classy, and adds a subtle pop of colour. LOVE LOVE LOVE." - Karin
No. 1 Hairpin For Curly Hair -
Long Chignon Pin

The Long Chignon Pin is part of our French Essentials Collection, these are perfect for everyday wear. This hairpin is longer than average and works best in hair with lots of volume.
The No.1 Hairpin for curly hair is great for securing all of your hair up in one elegant and neat or messy and textured updo. Equally great for long and thick hair types too.
"This chignon pin is really good it's very easy to use and I have long thick hair. The lady at the checkout admired the way my hair was held in place so perfectly, she said she couldn't achieve it so as there was no one waiting I took my hair down and showed her how I did it and what was holding it so perfectly. She said she would get some" - Susan 
No 1. Hairpins For Fine Hair -
6x Small Chignon Pins  

You may be wondering 'Do French pins work on fine hair?', well the answer is absolutely, yes! When you have fine hair, using a hair pin is preferred because it prevents damage and hair breakage which can occur more with finer hair types compared to using elastics that tug and pull at your hair.
It is important to know which hairpins are most suitable for your fine hair type and we have rated the 6x small Chignon Pins as the No.1 Hairpins for fine hair. You can build these pins up to hold fine silky hair by putting a few down the side of the twist to secure it all day long. 
"These are great and keep their hold all day. I have very fine hair and they really work, also the grey is so good with my grey hair." - Teresa
No. 1 Hairpin For Long Fine Hair -
8cm Waved Chignon Pin

The 8cm waved Chignon Pin is such a unique design which has been hand crafted in that special shape to give the best grip. That is why this hairpin is ideal for fine silky textured hair as well as longer hair with a lot of weight.
With six new colours to choose from, this hair pin really is the No.1 Hairpin that will not be found on the high street. 

"My first chignon pin, and it WORKS which I wasn't expecting. I love the colour too." - Elizabeth

No 1. Hairpins For Short Hair -
6x 90mm Chignon Hair Pins

This set of hairpins are ideal for short hair lengths as they are small enough to hold short layered hair. They really are the No 1. Hairpins for the perfect updo when you have less hair to create styles with. Simply twist your hair round into a French Pleat and one by one secure your hair pins along the side of your pleat to hold it in place.
"These are terrific.  Very smooth to go in and get out agin, and a great length for my thick, strong hair.  My bun stays up and in until I want to take it down again at the end of the day.  Previous chignon pins from other brands this size  bough on line snapped at the 'bend' on first or second use, all broken within a week of use.  these are lasting the pace.  I would recommend these and will buy again to have as spares.  good to have a choice of colours too." - Alison
Do hair pins damage your hair?

Have you every removed a hair elastic and a few strands of your hair can be seen tangled into the elastic? We can avoid hair loss and damage as a result of harsh hair elastics by making the swap to hair pins. Our Ooh La La! Hair pins are hand crafted in France with the highest quality cellulose acetate material. This material is flexible and snap-proof. Not only this, they go through three stages of polishing which gives them a superior finish with the smoothest edges that prevents breakage of your hair.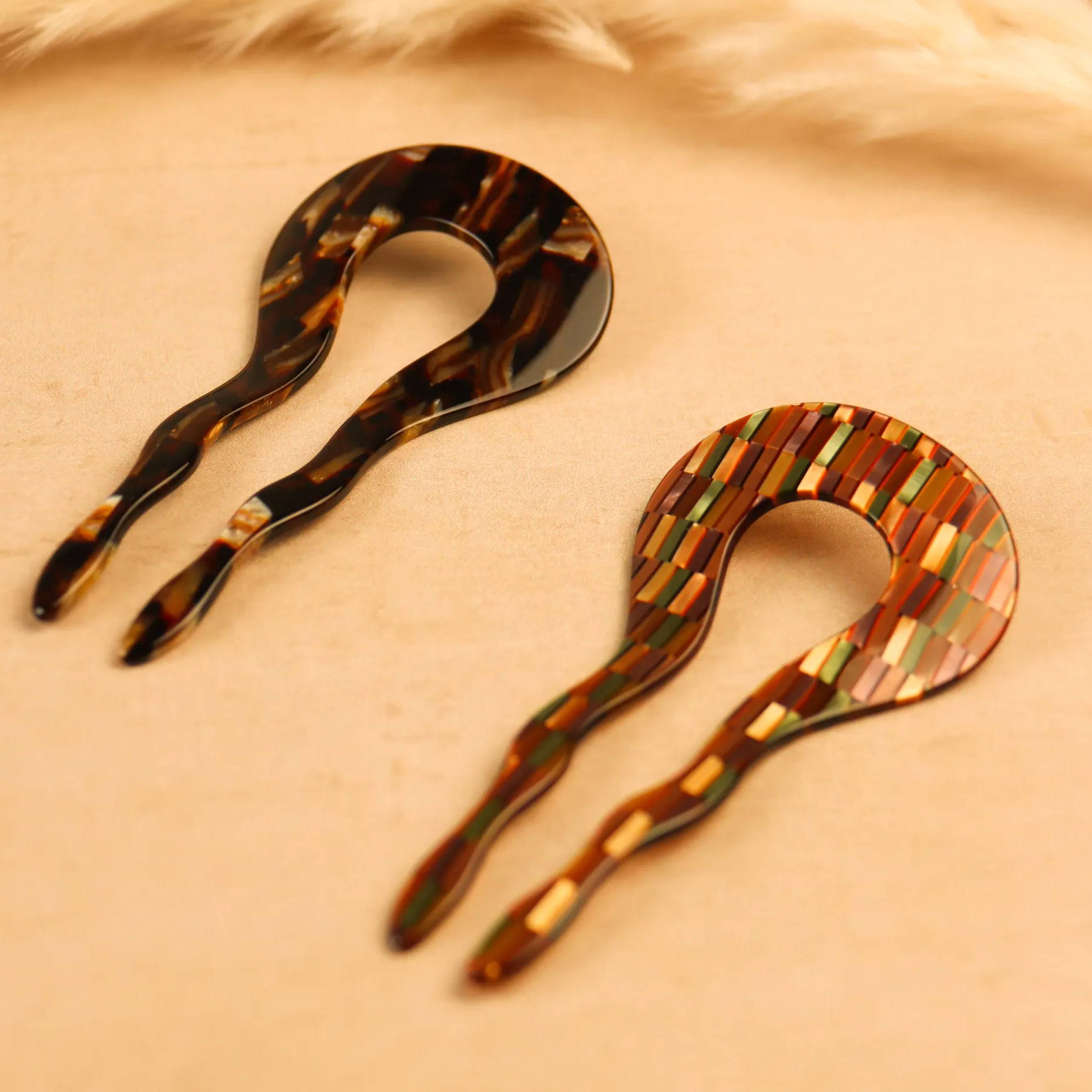 How do you do a French pleat step by step?