Hair claws come in a huge range of shapes, sizes and designs which are suited to all different hair types, lengths and textures. From tiny hair claws to pin back your fringe, to larger for holding long hair in an up-do, this is our complete guide on how to use claw clips with long hair and short hair.
This versatile hair accessory can be used in lots of different ways, to create many hairstyles in any hair type. The classic French pleat or twist is a popular style which can be made smooth for an elegant look, or loose for an effortless casual look. You could use smaller claws to create half-up styles, or a few long-tooth claws to hold buns or top-knots. Mini claws are great for clipping smaller side sections of hair or a fringe. Keep reading for three ways to style your long or short hair using our favourite accessories.
How do you wear claw clips?
An elegant hair style which can be done neatly for a sleek look, or left more loose for a more casual style.
Gather your hair at the nape of the neck and twist.

Pull the twist up so it's flat against the back of your head.

Roll the twist under the pocket of hair that forms and tuck in the ends for a neat look.

Secure the claw in the centre, just above the thickest part of the twist.

For a more casual loose look, leave some hair loose around the face and leave the ends of your hair untucked.
How do you wear a claw clip with long, thick hair?
For long, thick hair the best claw clip hairstyle is a French pleat or half up style. As long as you are choosing a large sized hair claw that is strong, then you will be able to style your thick hair.
It is important you are using eco-friendly and non-damaging claw clips. Our French Handmade claw clips are made from cellulose acetate, a sustainable material which is strong yet flexible. All of our claw clips have been smoothed by hand to prevent damage and snagging.
Hair Tutorial: French Twist Using Medium Hair Claw
Hair claw clips for thick hair
For thick hair, we would recommend using large claw clips with lots of space inside like our French handmade Large Hair Claw. These are perfect for holding lots of hair securely. Our popular Octopus Hair Claw is also ideal for thick, long hair. These are designed with strong springs to hold a large volume of thick hair without damaging it.
Hair claw clips for thin hair
In fine hair, the Long Narrow Fine Hair Claw Clip is a great choice as it has a smaller barrel so holds the hair securely, whilst still being able to grasp plenty of hair due to it's length. In very fine hair you could also try the Small Narrow Claw Clip version. These claw clips have been designed with overlapping teeth to prevent them from slipping.
For long fine hair, or medium weight hair try the Medium Hair Claw Clip from our handmade collection, or for an elegant twist the Medium Filigree Hair Claw Clip with an intricate cut-out design.
Our Sophia hair claw clips are recommended for holding French pleats, as they lay flat against the head. The bottom teeth are pushed in from the side underneath the twist, and the top teeth are clamped over the top of the twist. These are perfect for those of you who wear their hair up when driving or in the office as they are comfortable to wear when leaning against a head rest.
Is half up half down still in style?
This simple style is perfect for getting your hair off your face and is definitely still in style! You could go for a simple neutral hair claw, or add some sparkle with our Swarovski Crystal range.
Simply take the top layers of your hair into a half-ponytail at the back of your head. You can made this a smooth as you would like, and could even twist the hair round a little. Then just secure with your claw of choice.
Hair Tutorial: Half-Up Using A Medium Filigree Hair Claw
Half-Up Half-Down Claw Clips:
For half-up hair styles, mini and small hair claws are perfect for most hair types. If your hair is thick, try one with space inside such as the Small Hair Claw from our handmade collection.
To hold less hair, or in finer hair types try a Mini Hair Claw to hold your half-up hairstyle. These hold fine hair firmly in place, and come in a wide range or unique colours to go with different hair colours.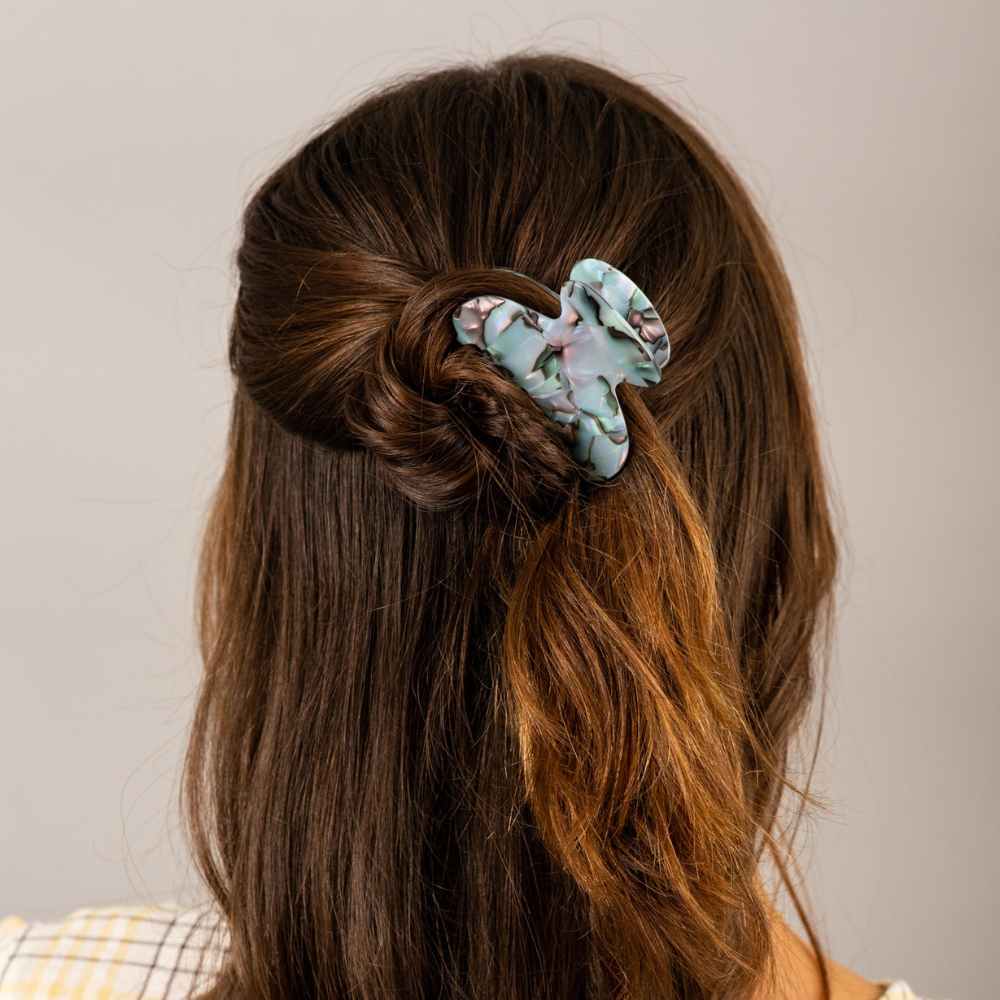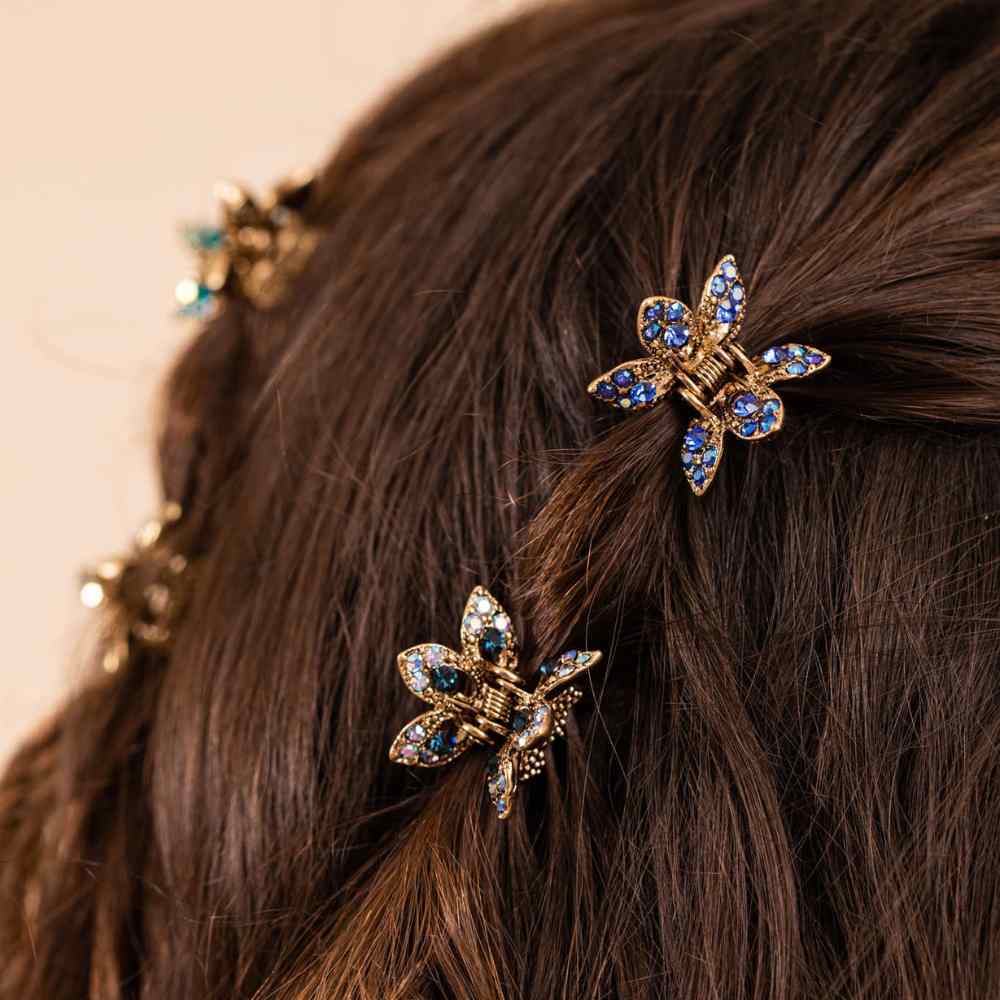 Can you do a bun with a claw clip?
To create a bun hairstyle, simply twist your hair around into your bun shape and secure with one claw, or a few around the outside of the bun. You could position your bun high on your head as a topknot, or go for an elegant low bun. Make sure to catch hair against your head with the bottom teeth of the claws, and hair from your bun with the top ones. Our Square mini, small and large clips are perfect for this as their teeth are able to wrap right around your bun. The thicker or more textured your hair; the large claw you will need, and you could even use a couple of bigger claws with some mini ones to hold any loose pieces of hair.
Now you have seen a few different ways to use our favourite accessory, we would love to see the styles you make with them! Be sure to share your styles and tag @tegenaccessories on Instagram and Facebook.
For personalised recommendations and advice, contact our team and they will be happy to help you find your perfect hair accessory!