5 Reasons Why High Street Standard Hair Clips Are Frustrating For Women With Thick Hair

We know very well the struggles that you face when taking home a high street hair clip. It is one of the many reasons Tegen created Tegen Accessories. The options available to us before were simply not good enough. Here are 5 of the main reasons for this:
1. Slippage
2. Breakage
3. Damage
4. Unattractive
5. Time Consuming
1. How to prevent hair accessories from slipping

Our hair accessories don't slip out because we have designed them with a firm yet comfortable grip where the teeth of the accessory are either positioned closely together or they are overlapping to ensure a secure hold.
We have created a blog article outlining the best non-slip Hair Claws, Hair Barrettes and Hair Combs for silky hair.
You should be the one who decides when to take your hair down, not your hair accessory.

Standard high street hair clips are not thought out and designed with specific hair types in mind, they follow a one size fits all approach, which as we know from years of experience with many customers and a variety of different hair types that this naive approach does not suffice.

High street and fast fashion retailers tend to focus solely on the colour and attractiveness of their hair clips but you wouldn't wear size 3 shoes if you are a size 5 just because they were pretty and the same attitude should be taken when it comes to the hair accessories you wear.

If you have a large volume of thick hair you may have found that in the past using standard high street plastic hair clips that they just snap in half. Those clips are not designed to hold heavy amounts of hair in them, especially not for long periods of time. A broken hair clip when you are out and about can ruin the day and cause unnecessary frustration when your hair falls down and you don't have a back up accessory to tie it back up. Replacing multiple broken hair clips has been normalised in the past which is wasteful and costly. 
At Tegen Accessories purchasing one luxury handmade hair clip will be the best decision that you make with the most reliable steel mechanisms and a flexible resin body you can be sure that it will last you years to come.
We are so confident in this that we have our Tegen Promise Guarantee which states that if your handmade hair clip were to break within the first year, we will replace it for you immediately because we are so sure that this won't be the case. You can read more about why you should opt for quality over quantity here.
Plastic hair clips found on the high street or in fast fashion online retailers have been known to contribute to hair damage. This is because the plastic edges can be rough and snag the hair as they are placed into and removed from the hair causing split ends. We don't have that problem with our handmade hair accessories because they are made with cellulose acetate, a resin material that goes through three stages of polishing to ensure that the edges are smooth and snag-free. 
At Tegen Accessories, we care about the health of your hair and we believe that hair clips that are carefully hand crafted are the least damaging form of hair accessory compared to hair ties and poorly produced plastic alternatives that can lead to tension and in some cases, hair loss. You can read more about how to improve your hair health here.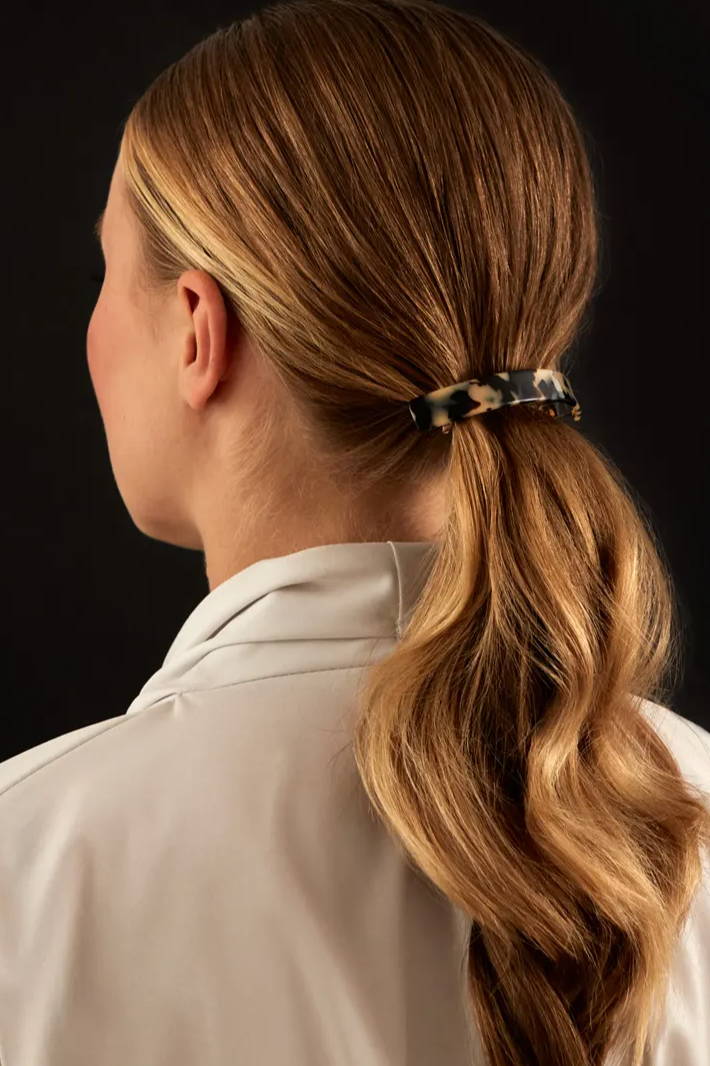 Many women find that standard cheap flimsy hair clips are unattractive and are either too small for thick hair or too large and bulky which makes hairstyling difficult. But at Tegen Accessories we have perfected the sizing of our hair clips to suit different hair lengths and volumes. We know from years or designing and the craftsmanship that goes into these hair accessories that the grasp and shape of the accessory are the most important things when it comes to securing thick hair, not how big and bulky you can make it like that of high street retailers. 
Unlike fast fashion brands, we offer arched barrettes including the Wide Arched Barrette and the Waved Thick Hair Barrette which have been carefully designed to secure a large volume of hair compared to our Narrow Bar Barrettes that are designed for finer hair types.
It can be time consuming trying to secure your hair in those poorly made hair clips that fall out or don't sit right when trying to secure your updo. 
That is why at Tegen Accessories we have designed a variety of different styles of hair accessories that allow you to experiment with new and innovative hairstyles that you can have fun with that take minutes to secure and stay in place all day long.
Our Large Sophia Side Hair Claw is a style made to the highest quality that you won't find elsewhere. This shaped claw is different from what you can find on the high street and allows you to experiment with different ways to hold your hair whilst having a hair claw that sits flat to your head, perfect for when you need to use a headrest such as on the commute to work that will hold your hair all day long.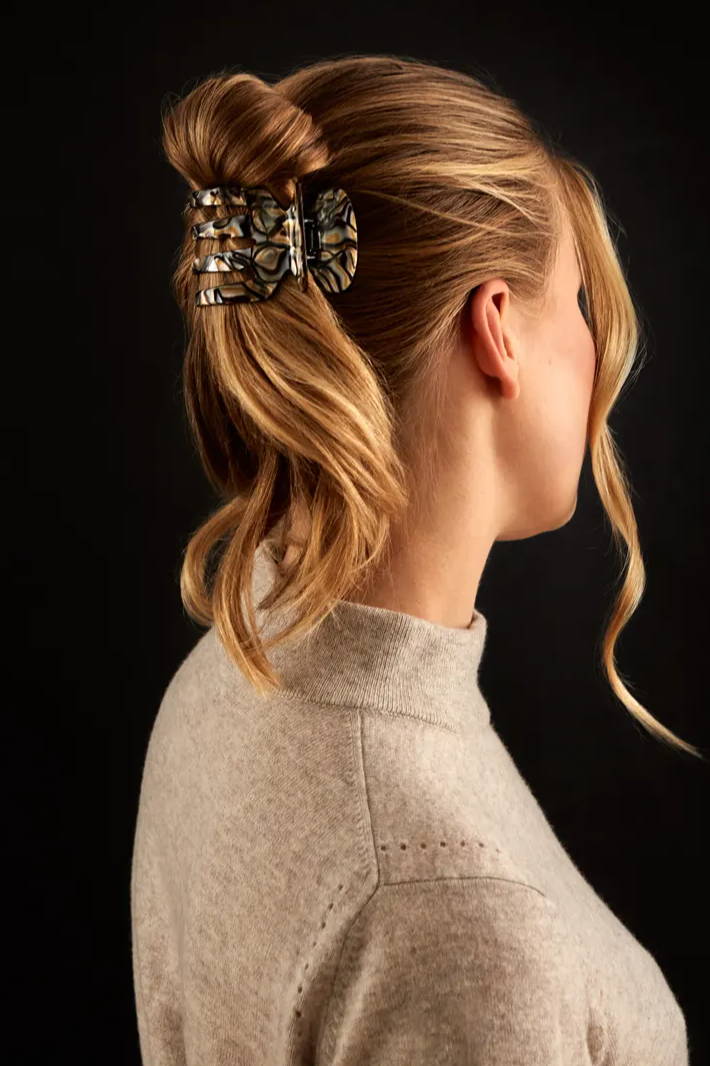 Dressing your hair should be enjoyable and not a chore, we have designed our collection of unbeatable hair accessories over many years to remove all frustrations that cheap flimsy clip hairstyling has left you feeling in the past. Gone are the days of unreliable hair accessories. Our hair accessory experts Chloe and Brooke will be happy to help you find the perfect hair accessories for your unique hair type, feel free to contact us for your own personalised shopping experience.