1. Trending Hairpins
2. Hair Pins For Buns
3. French Hairpins
4. Snap Hair Clips
5. Pearl Hair Pins
6. What are French hair pins?
7. How To Use French Pins  

Hairstyles in 2022 are all about getting the maximum look with minimal effort, we're all lazy this year. Hair pins aren't as intimidating as they may seem, we would go as far to say they are easy! Not only are they so practical and easy to use, they are a much healthier alternative for your hair than tying your hair up with elastics that tend to pull and snap the hair, or as a matter of fact snap themselves. It's time to start leaning away from hair elastics and hair pins are the perfect start. Now that 2022 is coming close to an end, it's time to start thinking of hair trends for the next year ahead. Luckily for those hair pin lovers, this trend is here to stay throughout 2023 as well!
Creating hair pins with buns is super easy and probably the most popular hairstyle to create. I mean how sophistated do they look? When in reality they take seconds, the perfect hairstyle to create when you're in a rush to work or going out for drinks. That's what we love so much about hair pins, they are so versatile and without fail look effortlessly good!
People are often dubious to how hair pins work and how they actually hold the hair. So that's why we have included a short tutorial to educate those who may not be so familiar with hair pins ...
"You will be buying an investment and you'll never want to buy another brand"
What's the difference between French hair pins and your standard hair pin that you would find on the high street? The French hair pins at Tegen Accessories are hand-crafted with the biodegrdaable material, Cellulose Acetate. You may be wondering, what does this actually mean for the hair? This material is very flexible and durable meaning it will not snap or pull on the hair as other hair pins would. Not only are these hair pins long-lasting and kind to the hair, they are polished to perfection for a smooth finish. With these high quality hair pins you are able to keep up with the latest hair trends whilst being kind to your hair.
Hair pins can be tricky to use at first, however once you master them they are super easy! Read this blog on how to use chignon pins.
Another trend we have been obsessing over is the return of the retro 90's snap clips. Even though we are two years away from lockdown, our hair may have not recovered from the damage. Let's be honest we all tried to cut a fringe or chop all of our hair off during this time. Now this is where snap clips can save the day. They are perfect for growing out fringes as they can easily clip those unwanted hairs out of your face whilst looking like a fashion statement.
We have just launched two brand new colourways that are exclusive to Tegen Accessories, you will not find them elsewhere. Luckily we have them available in our best selling Snap Clips, we only have 30 available for each product so be quick!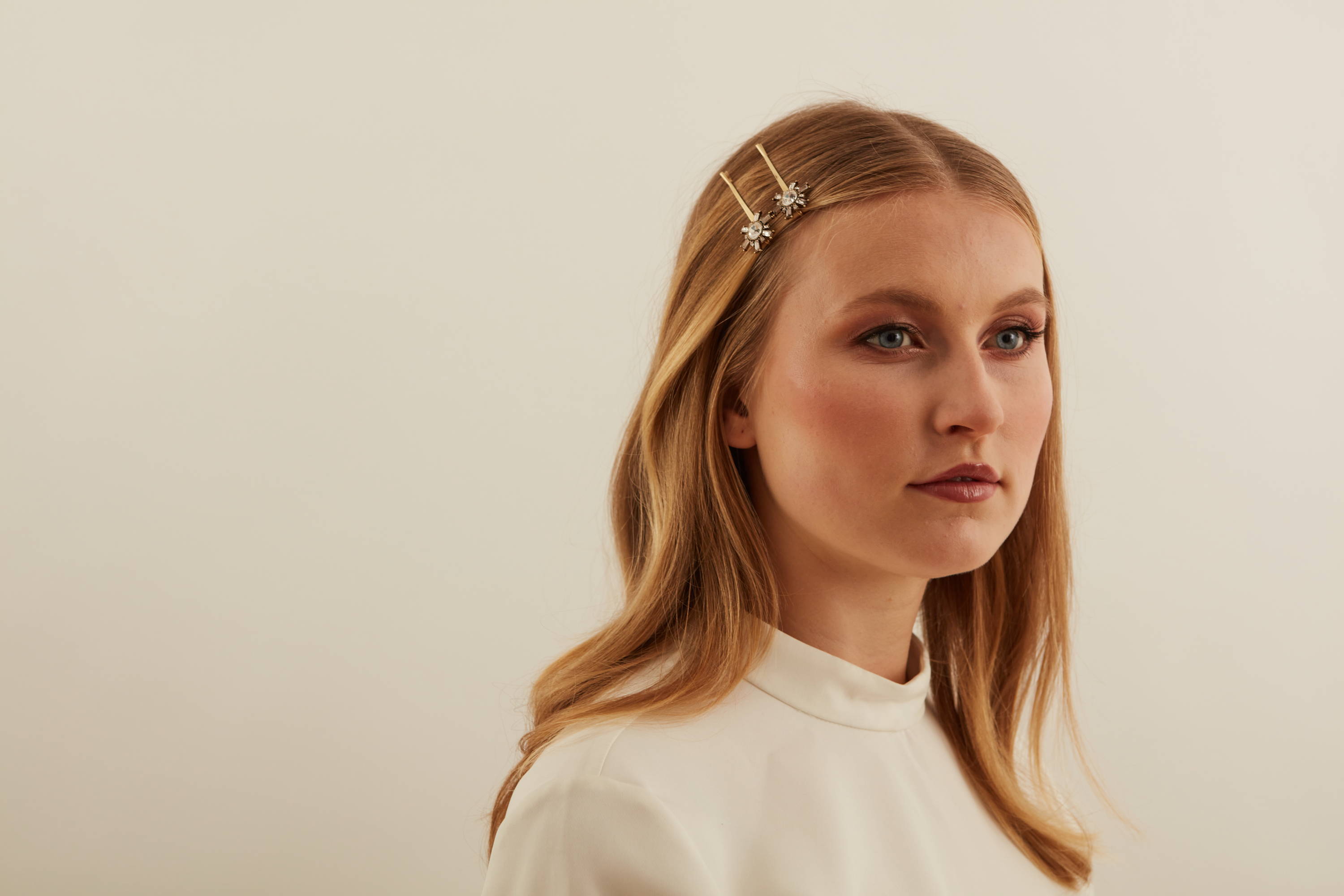 Another trend we are absoloutely loving this year is the obsession with pearls. The power of pearl hair accessories is that they are timeless and will translate for any occasion. Everyone needs one in their hair accessory collection, they are a must-have! Not only are they visually delightful, they are hand-crafted sustainably. For you this means you are buying high quality, ethically produced products.
These pearl hair pins are the perfect way to subtly add a bit of something to your hair, whether it's for holding small sections of your hair or using them to create a bun. These hair pins don't have to be just a trend, why not invest in them. Kind to the hair and kind to the planet, what more could you want?
What are French hair pins?
French hair pins are a healthier alternative to using hair elastics to tie your hair up. French hair pins are made from robust mechanisms that are designed to last years, our manufacturer in the heart of France has been making and perfecting hair clips since 1872 so they really are the best in the business. Within a 10 step process each hair pin is carefully scuplted and smoothed to perfection meaning these French hair pins are kind to your hair and will last you a lifetime.
A lot of people can be dubious into how hair pins work and actually secure the hair. Well, we are here to tell you that they couldn't be easier to style. For a french pleat style you simply:
Gather the hair at the nape of the neck and twist.

Bring the twist up so it is flat against your head.

Tuck the ends under and roll slightly into the pocket of hair that forms beside the twist.

With the pin upside down so it curves away from the head, push the prongs of the chignon pin through the top layers of hair in the middle of the updo. Don't do this too low on the style, or the top will be too heavy and it will not hold in place.

Then flip the pin and push it into the twist so that it now follows the curve of your head.
This technique can work exactly the same for buns, for those visual learners here are some hair tutorials:
Are you loving this hair pin trend as much as we are? Don't forget to tag us on our socials, we love seeing all the hair styles you create!