How to choose and wear your fascinator
A fascinator is a formal headpiece for women, often worn as an alternative to a hat. They are worn to occasions such as premium horse racing events, weddings and may even be worn by brides as an alternative to a veil. Since the early 2010's, the term hatinator has been used to describe a larger fascinator with hat-like characteristics. This style is particularly favoured by the Duchess of Cambridge who is often seen wearing hatinators. Choosing a fascinator can be a daunting process so we have put together a list of pointers to help you pick the perfect one for you.
Should a fascinator match the dress?
Whilst it is possible to build an outfit around a statement fascinator, it is often best to choose your dress first. This means you can pick a fascinator that matches or compliments the exact colour of the dress. However, keep in mind that it can be tricky to find perfect matches, especially if the dress is a more unusual colour. If your dress features more than one colour you could match the fascinator to accent colours within it. This gives you more colour options to choose from so a matching fascinator may be easier to find.

It can be difficult to match a fascinator to a photo of your dress so we would also recommend bringing your dress along with you when you are shopping for your fascinator.
Can a bride wear a fascinator?
There are two main types of fascinator: headbands or combs. Comb fascinators are usually small and light so they stay in the hair easily. Lets talk wedding fascinators, comb fascinators are great for wedding guests that don't want a large hat or fascinator. They would also be perfect for bridesmaids or even the bride! Combs are versatile as they can be worn anywhere in the hair. You could have it on the side of the head or even secured into a bun at the back. If you find your comb is a little heavier, or you have sleek, slippery hair, try spraying your hair with a little hairspray or texturising spray before putting in your comb to help it grip.

Headbands are a very popular choice and are generally quite low maintenance throughout the day. The choice of size is greater too, as headbands can hold much larger decorations, so, if you want a statement fascinator, headbands will be the one for you! It is often easy to hide the headband with your hair if you wish, although most are covered with material which matches the fascinator and can look lovely on show as well. The bride can most definitely wear headband fascinators too!
How do you choose the colour of a fascinator?
There are a few options you could go for when choosing what colour fascinator to wear. Firstly, you could match the fascinator to the colour of your dress, a popular choice which looks sleek and classic. Secondly, you could match your fascinator to accessories you will be wearing such as your shoes or bag. This could be done to create a beautiful pop of colour and can really tie an outfit together.
Finally, you could go for a fascinator in a contrasting colour to your dress. For example, a navy dress would look beautiful with a contrasting fascinator in red, pink or orange. However, the contrasting colour does not have to be bright. A pink dress would look lovely with a classic black fascinator whilst silver-grey fascinators compliment turquoise dresses beautifully.
How do you choose the size of a fascinator?
There are no set rules on how small or large your fascinator should be, but there are a few traditional guidelines which you may wish to adhere to.

If your fascinator is for a wedding, traditionally the mother of the bride has the largest fascinator of all the guests. It really is a time to be daring and go for something statement and beautiful! The mother of the groom could also opt for a large fascinator. Wedding guests would usually go for fascinators smaller than the mothers of the bride and groom. Traditionally, the closer the relation to the people getting married, the larger the hat they wear!

If your fascinator is for the races, such as Ascot, the general rule is the bigger the better! You will see all sorts of large and fabulous creations as the races so don't be afraid to go for something different and outstanding!
How do you wear a hair fascinator?
Fascinators are usually worn on the right side of the head. This is a historical tradition originating from when women always stood on the right side of a man as his sword was always carried on the left. Therefore, women's hats tilted to the to the right so that it wouldn't shield her face from him. Although men no long carry swords, the tradition of wearing hats and fascinators on the right has continued and is particularly seen amongst fascinator wearing royals. This means many fascinators are still designed to be worn on the right side of the head.
However, the design of some fascinators mean they can be worn on either side of the head, and it often looks best to wear the fascinator on the same side of the head as your parting falls.
How do fascinators stay in?
Headbands are easy to wear as you simply pop them on and go, but combs can take a little more time to get the hang of. However, once you master it, it really is simple. If you have smooth or slippery hair, add a little hairspray now for extra grip. Hold the comb upside down against your head so the fascinator is on the inside and the curve of the comb is pointing upwards. Then, hold your hair back into the position you want it with your other hand and run the teeth of the comb through your hair away from your face. Flip the comb back over and push it forwards towards your face until it stays firmly in place.
Step-by-step guide:
1. Hold the comb upside down against your head.
2. Run the comb through your hair away from your face.
3. Flip the comb over and push forwards towards your face.
4. When it's firmly in place you are ready to go!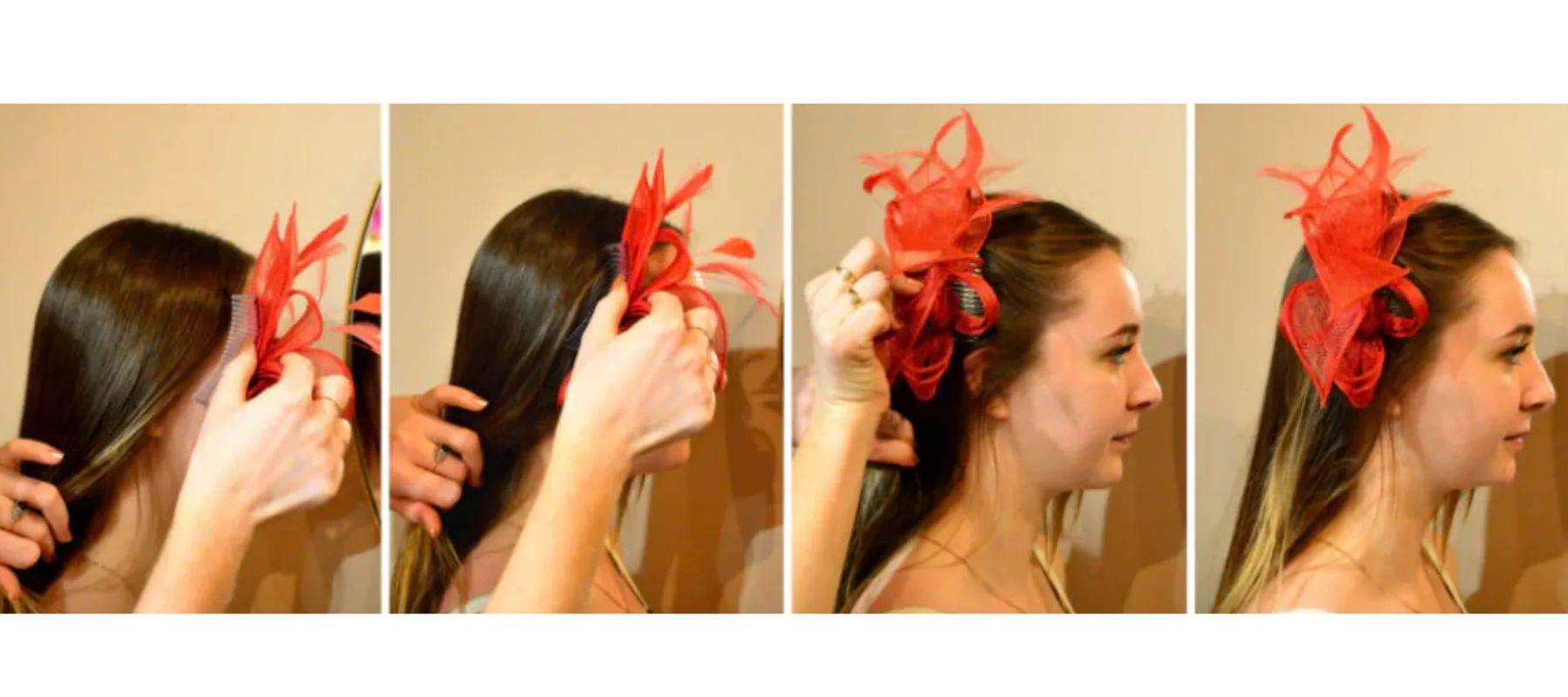 As a fascinator alternative, we would recommend our Swarovksi Crystal collection is perfect for any occasion that you would wear a fascinator to! Our Crystal Combs are a beautiful hair accessory to wear to weddings and the races. Headbands are always a good alternative to fascinators too.
Don't forget to tag us on our socials with photos of your lovely fascinators!
@tegenaccessories